When it comes to road trauma, the Northern Territory has the worst statistics in Australia, with younger people particularly at-risk. AANT is contributing to the reduction of road trauma in the Territory by hosting a road education event for high school students.
WORDS BY: Jeremy Rochow and Samuel Smith
Did you know Territorians are three to four times more likely than the rest of the nation to have a fatal road crash?
In 2019 the road crash fatality rate in the NT was 14.6 per 100,000 people – more than triple the national average of 4.7. Shockingly, one in four people who died on NT roads were under 25.  
Road fatalities aren't just statistics. As clichéd as it may sound, it still rings true that people killed in car crashes are fathers, mothers, brothers, sisters and friends. Road trauma has a far-reaching impact – people who survive might be left with life-altering injuries or mental scars they'll never fully recover from. It also impacts emergency services personnel who can't unsee some of the devastating crashes they've attended.   
That's certainly true for St John Ambulance NT CEO Judith Barker, who spent 24 years working as a paramedic before moving into management roles. 
"There are some jobs that never leave you," Ms Barker says. 
"The most confronting part of seeing a road crash is the emotion at the scene. You'd have (crash) scenes where families would show up, or there are Christmas presents on the back seat."   
"You might see a child seat in the back seat of the car, and thankfully it's empty, but we'd then know someone's father isn't coming home."
While paramedics are highly trained to deal with these situations, once they end a shift, they have time to reflect.
"That's when you talk to your partner," Ms Barker says.
"You might ask, 'Did you see the child seat in the back of the car? The patient's deceased and they're someone's parent'.
"It can become really hard when you start to reflect on the long-term impact of that."
Street Smart High
AANT wants to play its part in reducing the road toll in the Northern Territory. To do this, in May they'll be hosting – with the help of the NT Government, Towards Zero and the NT Motor Accident Compensation Commission – the Territory's first Street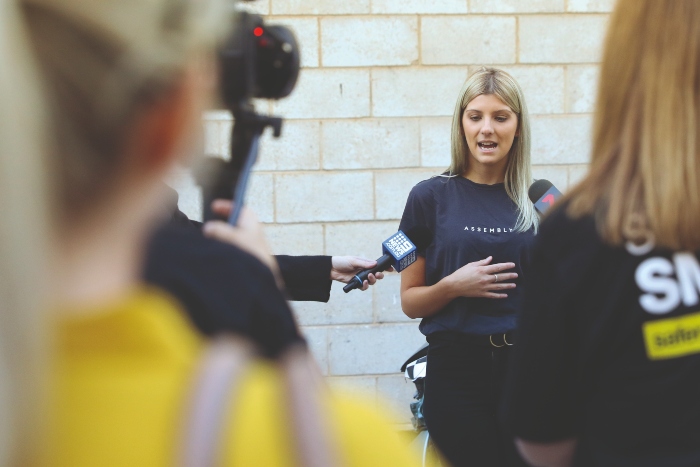 Smart High event. Hosted at the Darwin Convention Centre, more than 1000 students on the cusp of driving will be immersed in an educational experience like no other, complete with a full-scale crash scenario and touching personal stories from real crash victims and their families.
Holly Scott is just one of the crash victims students will hear from. Ms Scott was navigating winding roads late one night in 2017 when she slammed into a tree. Emergency services had to pull Holly's car off the tree and cut the roof off to get her out.  Major crash was called to the scene because no one thought she would survive.
Holly was in a coma for 15 days and broke both her legs, shattered her pelvis, fractured a couple of vertebrae, and tore her liver. On top of that, she had a bleed on the brain which has led to a brain injury that still impacts her speech and vision today. Following the crash, she had to learn how to walk and talk again. Now, she tells her story to educate young people about the risk you take every time you get behind the wheel.
The aim of Street Smart High is to educate young people about driving and passenger risks. It also provides them with knowledge and skills to avoid dangerous situations.  Ms Barker, who'll narrate the crash scenario, says Street Smart High is an amazing event that sticks with people.
"The NT has so many horrific accidents and road trauma, so I think it's a great thing to do for the kids," she says.
"I think you have to have these honest conversations with the young people about the devastation."
Choosing the right car
In 2017, when Holly crashed, she was driving a popular 2006 model car. In almost all respects, it seemed like a sensible buy.  The problem, however, was that it had no side airbags and, consequently, didn't have a 5-star ANCAP safety rating.
"I overcorrected and hit a tree on my side of the car. If [my car] had side airbags, I don't think I'd have the injuries I do," Holly says.
Looking back, Ms Scott – like so many drivers – never really considered the ANCAP safety rating of her car, or its safety features.
"I never really thought about the safety rating of my car, or about airbags. I honestly thought it was a good, safe car – it was really popular with girls my age," she says.
After spending months rebuilding her confidence, Holly made the brave decision to get back on the road. Needless to say, she now drives a 5-star ANCAP-rated car and encourages young drivers to attend a Street Smart High Event.  As part of the Street Smart High event students will hear and see the difference between a car with a 3-star rating and a 5-star rating.  Star-rating thresholds are increased regularly to account for emerging safety features, which is why you should always check which year the car you're interested in buying was tested.
Final words
With research showing that newly licenced drivers are at the highest risk of having a fatal crash within their first year of unsupervised driving, Ms Barker has a message for young people about to get behind the wheel.
"Nobody is bullet proof – it's a privilege to have a licence and when you're out there on the road, you can never afford to let your attention slip," Ms Barker says.
"As good as you think you are, (driving at) high speeds on a wet country road, you're not that good. You might be a safe driver, but you have to be conscious of the decisions people are making around you."
Ms Barker has dealt with road trauma on a more personal level as well.
"I lost a friend at 18 because he thought he was bullet proof and unfortunately the tree won," she says.
"That will stay with me and he's someone I will carry forever. That doesn't come from my experience as a paramedic, but as a friend. I don't want anyone to go through that grief."
Registrations for Street Smart High 2021 are closed.