Standing within metres of Uluru is enough to take your breath away – it's an experience that'll remain etched into your memory far longer than the red dirt that'll stick to the soles of your shoes. But there are so many other pinch-me moments right here in the Territory. So, we've put together a bucket list of 20 epic experiences to tick off during your lifetime.
Words by:  Lauren Ferrone
1. Immerse yourself in Uluru's jaw-dropping light installation Field of Light.
Spanning more than seven footy fields, this spectacular sight – created by artist Bruce Munro – is made up of 50,000 spindles of brightly coloured lights scattered across the desert.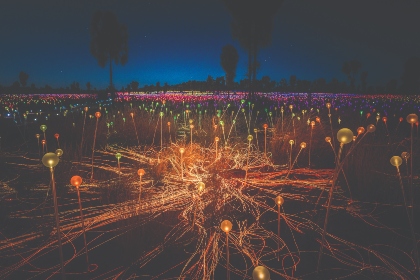 2. Experience a spiritual Aboriginal smoking ceremony on Tiwi Islands, where the smouldering of native plants is believed to promote healing and ward off bad spirits.
3. Witness water buffalos roam their natural habitat, as you admire these beasts from above in a chopper ride over Kakadu National Park.
4. Enter the Cage of Death at Crocosaurus Cove.
Submerged underwater in a crocodile enclosure, this thrilling experience gets you up close and personal with some of the largest salties on the planet.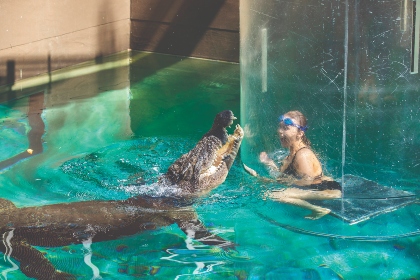 5. Go on a sunset camel ride around Alice Springs' sand dunes to see the colours of the ranges deepen to a glowing red and the sky shift from cobalt blue to orange pink.
6. Eat a witchetty grub on a Karrke Aboriginal Cultural Experience Tour in Kings Canyon. Once you get past the idea of eating a grub and you have your first taste, you'll be hooked.
7. Swim under a waterfall – or two – at Kakadu National Park's Twin Falls, which has a split cascade that plunges from a 150m-high cliff face into a deep pool.
8. Indulge in a unique four-course fine-dining experience infused with ancient Indigenous flavours.
The biggest feast is the one for your eyes, as you dine with magnificent views of Uluru and the domes of Kata Tjuta in the distance.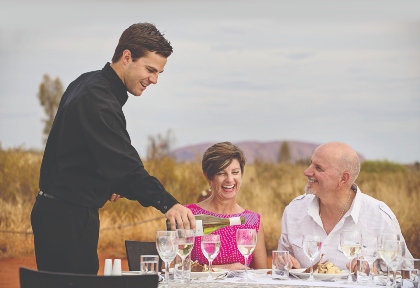 9. Witness the night sky light up on Territory Day on 1 July. Despite fireworks restrictions in most parts of Australia, it's entirely legal to set them off from 6pm to 11pm on this patriotic day.
10. Hold tight as you glide between tall ochre cliffs in a tyre tube at Redbank Gorge in the West MacDonnell Ranges. 
11. How often in your lifetime can you say you've built a boat out of beer cans?
You can do just that in the Darwin Beer Can Regatta at Mindil Beach. Now this brings a whole new meaning to taking the tinny out on the water.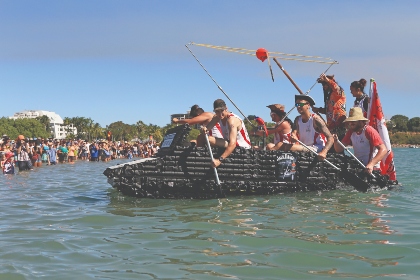 12. Walk along one of the planet's top 20 treks, the Larapinta Trail, which is a 223km path in the West MacDonnell Ranges.
Make the journey last longer on a two-week traverse and get some shut eye in a swag under the stars.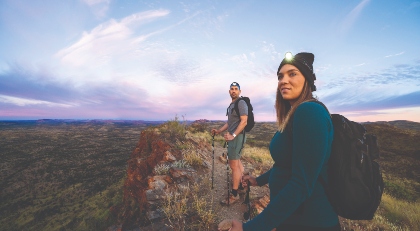 13. Go on the ultimate fishing trip in the Million Dollar Fish challenge. Here's how it works: Tourism NT tags barra at fishing hotspots around the Top End – 100 carry a $10,000 prize, 20 are tagged as charity fish, while six have a $1,000,000 price tag. Talk about a good catch!
14. Learn the art of dot painting in Uluru with the help of local Anangu artists.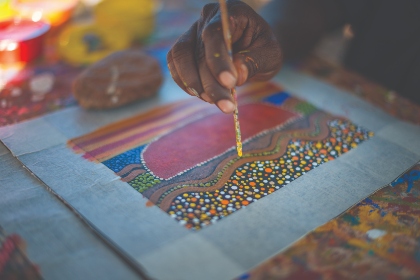 15. Go mud crabbing at Crab Claw Island, about 130km by road from Darwin and surrounded by pristine waterways, such as Bynoe Harbour, saltwater estuaries and freshwater creeks and rivers.
16. Take a dip in Katherine Hot Springs on the banks of the Katherine River.
These crystal-clear pools reach a comfy 32 degrees Celsius, making it the perfect place to unwind during the dry season.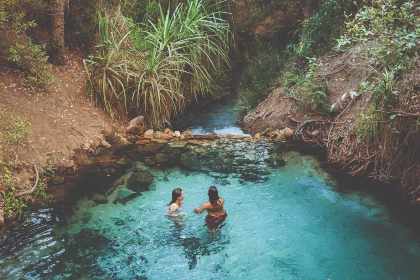 17. Attend the astronomical Dark Skies Festival, hosted this year by Earth Sanctuary on 25–29 May. Hear ancient stories play out in the night sky, with sound and visual effects breathing life into these starry stories.
18. Wander Darwin's oldest markets Rapid Creek Markets to discover (and taste) the exotic fruit of the tropics.
19. Touch a sandstone wall believed to be more than 500 million years old, which can be found in Litchfield National Park's The Lost City – a series of ancient sandstone outcrops.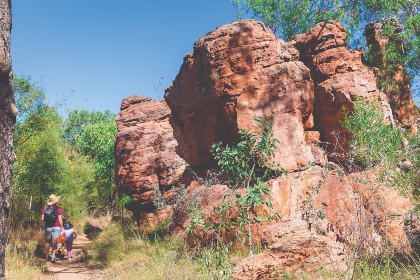 20. Hop on a flight to the region's remote Mt Borradaile to spend your days relaxing in safari huts surrounded by bushland and admiring 50,000-year-old Aboriginal rock art.
ED'S NOTE: Some experiences may be affected by COVID-19 restrictions. We advise AANT members to check event and business websites for up-to-date advice.