Get up close and personal with wildlife right here in the Northern Territory.
Words by: JEREMY ROCHOW
Sometimes we take the beauty in our backyard for granted. The Northern Territory has an abundance of stunning natural wonders, from Uluru and Kata Tjuta to Kakadu and Litchfield National Park. These ecosystems create perfect habitats for the many animals that call the Northern Territory home. Fortunately, there are lots of opportunities to meet wildlife here in the Territory. Here are some of our favourites.
1. Go Bird Watching at Kakadu
Kakadu National Park is home to more than 280 different species of birds, making it the perfect location to watch these feathered creatures in their natural habitat. During the wetseason, white-bellied sea eagles glide over the billabongs and comb-crested jacanas stride across lily leaves. If you're at Kakadu when the dry season is ending, you'll see large flocks of plumed whistling-ducks and magpie geese crowding around the receding billabongs. At Kakadu you can lear n about bird photography, hike along the national park's many trails or immerse yourself in the local culture on an Animal Tracks safari.
2. Ride a Camel at Uluru
Enjoy breathtaking views of Uluru and the surrounding landscape aboard a camel as it meanders along the red dunes. During the one-hour experience, you'll hear stories from the skilled cameleers and watch the stunning monolith change colour as the sun drops below the horizon. Return to the farm at twilight and enjoy a beverage, outback bush food and damper.
3. Visit the Batchelor Butterfly Farm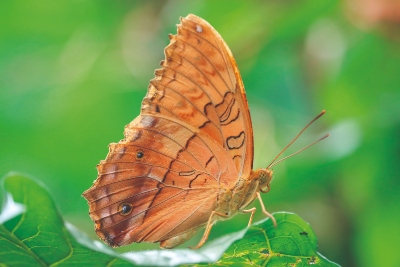 Enter an indoor sub-tropic rainforest and get up close and personal with native Australian butterflies. You can watch these winged insects fly, sip nectar and show off their vivid colours. You can also learn more about butterflies from resident expert Christopher Horne. Located 30 minutes from Litchfield National Park, the Batchelor Butterfly Farm is the perfect place to stop and see some colourful wildlife. 
4. See turtles make tracks
Darwin Wildlife Tour's Turtle Tracks adventure gives visitors the once-in-a-lifetime opportunity to see Olive Ridley turtles in their natural habitat. Your adventure begins at Stokes Hill Wharf where you'll board a fast boat. You'll then make your way to Bare Sand Island (Njulbitjlk) where you'll be taken ashore to explore the beach with marine scientists. You might be lucky enough to see a nesting turtle when you arrive, or one make its way up the beach shortly after. If not, the turtles will usually appear at sunset and slowly plod up the beach, giving you a spectacular view.
5. Meet the crocs at Crocosaurus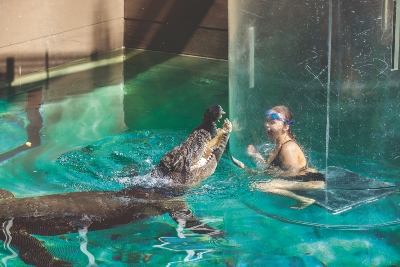 You probably don't want to encounter a crocodile when swimming in the Territory, but at Crocosaurus Cove you're encouraged to come face-to-face with these predators. Enter the Cage of Death – a glass enclosure – and dive  down to meet a five-metre saltwater crocodile. Witness the croc's infamous bite as it feasts on raw meat and stare into its eyes as it approaches the cage. After swimming with the crocs, you can explore the rest of the park. Visit the reptile house, meet red and yellow-face turtles, or hold a baby crocodile.
6. See desert animals in the red centre 
Many people believe the desert is a barren wasteland, but that's far from the truth. The Alice Springs Desert Park gives visitors the opportunity to see the desert come alive. Gaze skywards as raptors like wedge-tailed eagles swoop down and hunt their next meal or experience the park at night as you search for nocturnal animals. Walk through three botanical habitats – Deserts Rivers, Woodland and Sand Country – while learning more about the animals that call the park home. During a visit to the park, you can also learn more about the Arrernte people who've lived in Central Australia for tens of thousands of years.
7. Cuddle a baby kangaroo 
There are a lot of kangaroos in the Northern Territory, but it's not every day you can cuddle a joey. At The Kangaroo Sanctuary in Alice Springs, you can join a guided sunset tour and take a leisurely walk through the 188-acre wildlife Reserve. The sanctuary rescues orphaned joeys and cares for them until they can be released back into the wild. Kangaroos sleep during the day so the best way to see these cute baby roos is by joining a guided sunset tour.